I cannot tell you how often we are asked by a client whether or not we think they should paint. The short answer: YES!
The next question we get asked: but what colour? Stick to neutrals! That appeals to the widest group of buyers. Yes, we acknowledge that this is boring and cookie-cutter, but there is a reason that so many people do it – it works! The neutral palettes are less distracting and it makes it easier for buyers to imagine moving their belongings into the space. If you are dying to sneak some colour into the home, do so with your décor (accent pillows, statement pieces, etc.).
Even if your house is already a neutral palette, you may still want to think about painting. With time walls can get damaged and scuffed-up, which gives the impression to buyers that the home is dirty or unkempt. Nothing that a fresh coat of paint can't help!
You do not have to paint the whole house either. A quick cheat is to paint the living space and kitchen for the most dramatic effect. If the kids' rooms are neon green and fuchsia, don't worry too much about it — they are secondary rooms and do not affect the sale as much as the primary rooms would. I would only recommend making a change in those rooms if the colours are making the room feel smaller or if the walls are particularly banged up. Of course if you have a lot of time on your hands (yeah right) you could paint these secondary rooms, but the return on dollars and effort spent will be negligible.
As a bonus to our loyal following, we are going to offer you three of the paint colours we most frequently recommend!
Greys are really in right now. For a nice light and neutral grey, we recommend: Benjamin Moore Classic Gray OC23 because it is as neutral as it gets with its slightly greige (beige) undertone. This means that depending on the room and exposure it will flex from the gray end of things to the beige end without committing 100% to either. Also, for those of you that have painted a room in a neutral tone only to have it look purple or pink in the daylight, rest assured. This paint does not have any purple undertones in it!
For those that want to go the more traditional route with neutral tans/beiges, we recommend: Sherwin Williams Canvas Tan SW7531. This colour works well in all rooms (including smaller ones) and looks gorgeous with almost all wood colors and white trim. It is a nice warm and inviting colour too! Just beware that this color looks horrible with pink hues.
Another trend we have seen is one toward slightly off-white colours. For this, we recommend: Sherwin Williams Creamy SW7012. It is hard to believe, but white can be one of the most difficult colours to paint your home. The wrong shade of white can make your home look sterile or dirty. This colour however is the perfect off-white with warm undertones. It also has a neutral base to calm it down so that it isn't overly yellow or orange looking – it's more like a very light 'cream'.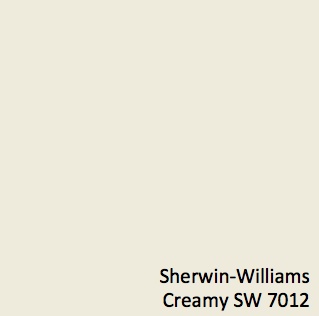 There, now you know all of our secrets! Does anyone have any paint suggestions they would like to add to this list? We are always open to new suggestions!